The resilience of Tough Tech
It is our strong belief that in the coming decades, investing into Tough Tech sectors will be mainstream, and that the tech giants of tomorrow will increasingly be in sectors such as energy, manufacturing and biology. As such, we look at how this hypothesis is playing out with growth of funding into private companies across climate tech, human health, and advanced systems and infrastructure. Growth here signals promise towards a future where our markets and returns align with what is best for our planet, for our health, and for future generations. The scaleup we have tracked has been encouraging, including a 5x+ growth in private financing towards Tough Tech, and a particular increase in much needed late and corporate capital. But on the heels of a banking crisis, dip in public markets and overall stagnation of public exits, we knew that this year would look different.
We hope that this report will spark new insights and debates, and most importantly encourage more capital to back the breakthroughs across science and technology that will propel our economies forward.
We present some high-level data below but encourage you to download the full report for breakdowns of fundraising by stages, exit data, as well as the individual Tough Tech sectors.

While venture funding has declined from the peak in 2021, the Tough Tech investments have grown as a percentage of overall private funding, showing more resiliency compared to other sectors
Early stage funding has proven more resilient in size and valuations vs. later stage financing despite the overall decline in deal numbers
Increasing participation by corporates has continued into 2023, highlighting the growing need for innovation by the incumbents
Climate investments surpassed for the first time investments in Human Health in the period spanning H2 2022 and H1 2023 (see full report for detailed breakdown of individual subsectors)
Human Health was the first sector to experience contraction leading with the funding levels have stabilizing in the first half of 2023
Advanced Systems sector was led by continued strong investments in semiconductors and advanced computing driven by the continually increasing global demand for compute capacity
While climate-related investment did not fully avoid the wider market contraction, venture funding in the sector has remained resilient as societal concern about the effects of climate change continues to grow in hand with related legislation including the Inflation Reduction Act. Overall, Climate funding was down 33% in H1 2023 vs. the year prior, however, we have seen stabilization and signs of potential rebound with Q2 2023 funding up 25% vs. the first quarter of 2023.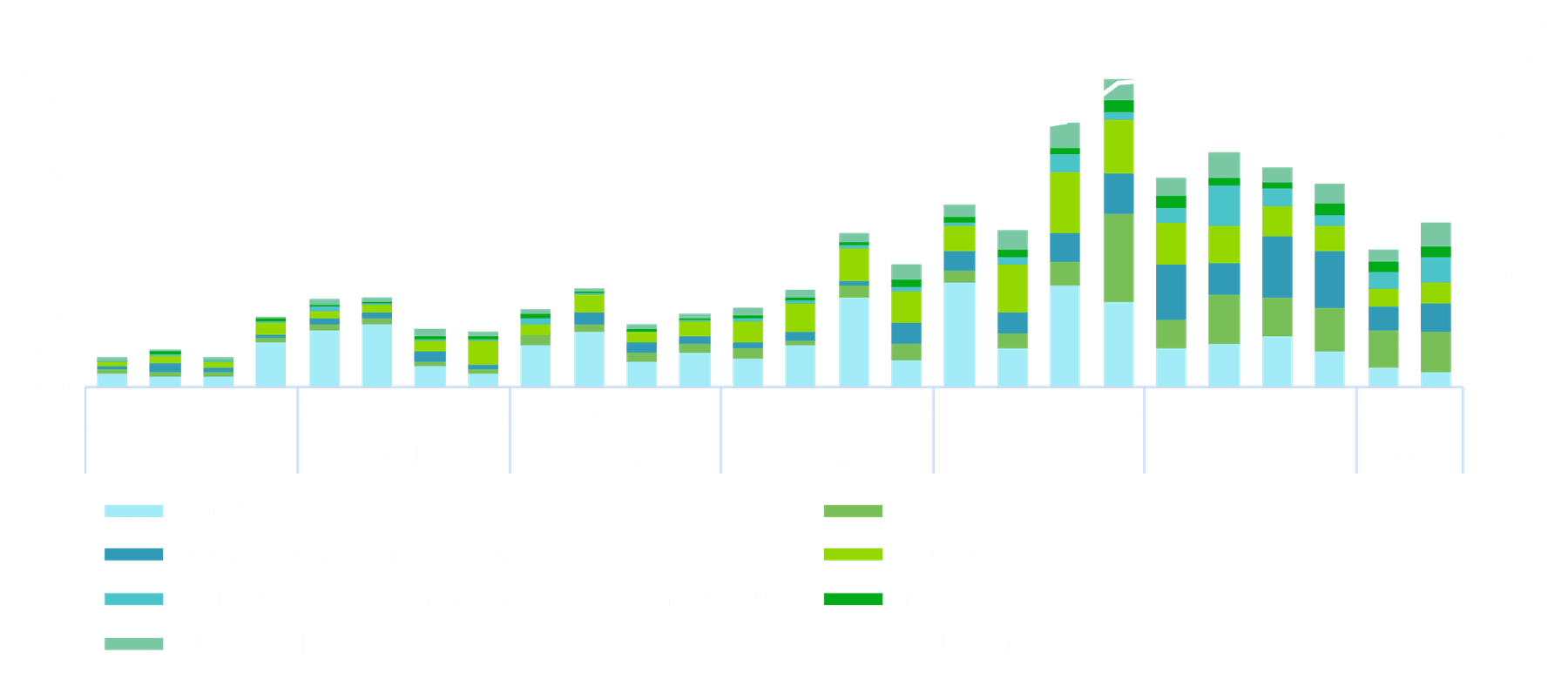 hydrogen market by 2030

$600B+

carbon market by 2050

UP TO $1T

annual growth in Li demand

20%
The venture activity in Human Health accelerated significantly in the late 2020 and early 2021 in part due to the industry's pivotal role in the response to the COVID-19 pandemic. With the influx of general investors into the Human Health sector, the venture investments peaked in 2021 with $20B invested in Q2 2021 alone. This run up was followed by approximately 50% drop in investment activity through the second half of 2022, a level that was sustained into 2023. It is encouraging to see that the funding levels have stabilized over the last 4 quarters, with some early signs of recovery including a number of public listings planned for the latter half of 2023.


cell & gene therapy market by 2032

$82B

global neuroscience market across diagnostics and durg an non-drug therapies

$721B

vaccine market in 2021

$100B+
Advanced Systems & Infrastructure
The Advanced Systems & Infrastructure sector has seen a pattern similar to the other Tough Tech sectors - a peak in investment activity in late 2021, followed by a return to approx. 2020 levels of funding, with combined $16.3B invested over the second half of 2022 and first half of 2023.

required computing power doubles approximately every 100 days

100 Days

in autonomous driving systems revenue by 2035

$400B

value delivered by Quantum Computing by 2035

$1.3T
Just last year, the US passed three landmark developments with deep impact on the Tough Tech landscape: the Inflation Reduction Act (IRA), the Creating Helpful Incentives to Produce Semiconductors (CHIPS) and Science Act, and the establishment of the Advanced Research Projects Agency for Health (ARPA-H).

over 2023-24 allocated to ARPA-H funding high risk, high reward research in human health

$4B

to be deployed into R&D, tech-hubs, and workforce development as part of CHIPS and Science Act

$280B

designated for clean energy in the form of tax incentives, grants, and loan guarantees as part of IRA

$400B
Read the complete report.