The Importance of Government-VC Collaboration to Launch and Grow Companies Critical to the US National Industrial Base
The Need for a Change
The US is losing its competitive edge in non-traditional, emerging technologies as near-peer competitors execute well-orchestrated and well-financed campaigns to grow their domestic governmental and company capabilities. Without fundamental changes to the way in which the US government supports early-stage, dual-use technology companies, the US government can neither direct nor expect the free market to grow critical sections of the Tough Tech National Industrial Base.
Successful Tough Tech companies often emerge from our nation's prolific academic labs. We find that current government approaches are not suited to either select high potential academic founders or provide the initial capital and mentorship required for these founders to launch a Tough Tech company that will scale into a foundational US industrial base company. For most Tough Tech companies today, this kind of growth can only be reached through success in the commercial marketplace.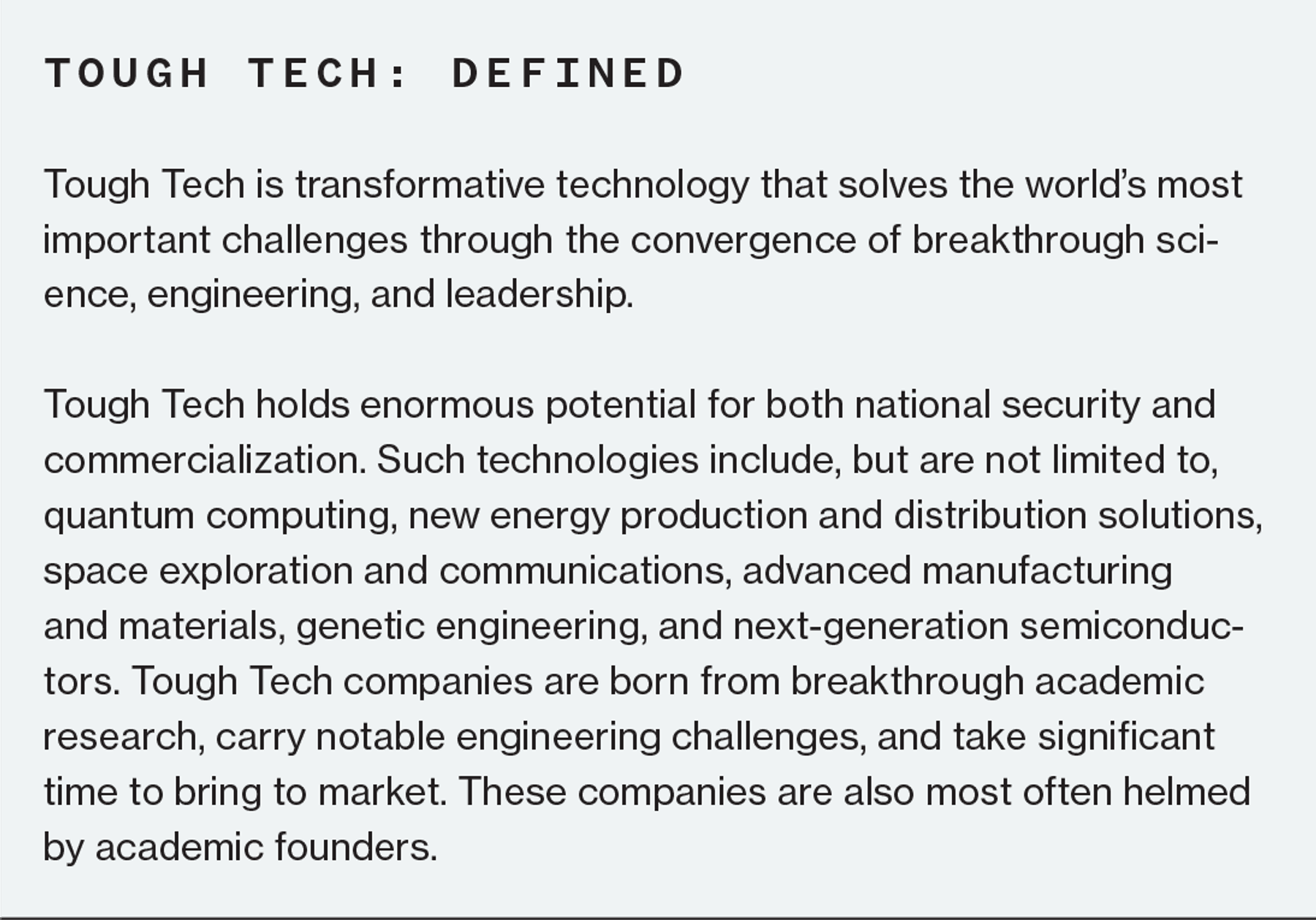 We propose the establishment of a new program in which the government directly teams with the venture capital (VC) community at the earliest stages of a Tough Tech company's development. Successful founder selection and subsequent growth of Tough Tech companies are best supported through this early fusion of private investment and government funding. Our proposal harnesses the inherent strengths of the federal government, the VC investment community, and the founders themselves.
Such a program will combine the proven efficacy of the traditional VC investment model to identify talent, pinpoint market opportunities, and foster company growth along with the government's ability to strategically identify gaps in the US's National Industrial Base. The program's hybrid nature will ensure the strengths of each participant are maximized to create companies with immense commercial value as well as benefiting both national security and the National Industrial Base.
A New Approach
It is only once a Tough Tech company has a team, a viable product roadmap, and momentum in the commercial space that they are truly prepared to evaluate which traditional government R&D opportunities will positively impact their commercial or dual-use growth. And even then, they are often challenged to balance the requirements of a government program with the fluidity required to achieve commercialization milestones.
The survival of a Tough Tech company in its earliest stages — that precarious time between the initial idea or technological breakthrough and product development — is dependent on a founding team that is obsessively focused on growth. That team must simultaneously pursue technical risk reduction, customer discovery, marketing, hiring, space creation, among other activities. Ideally, growth in these consequential early stages is supported through a fusion of private investment and government funding.
Yet many of the federal government's most popular grant programs struggle to effectively find and fund commercially successful Tough Tech entrepreneurs. This is not a critique of these programs — they are undeniably beneficial to more mature endeavors. It is challenging for the government, by its very nature, to match the VC community's intimate access to entrepreneurs and the ability to integrate these founders with commercial opportunities. As such, it is vital that the government and the private sector work together to coordinate investment and incentive structures, as well as mentorship, for those at the earliest and riskiest launch stages of company and technology development.
Such a program may work like this:
The government identifies critical and under-supported Tough Tech areas that are deemed priority to the National Industrial Base. These areas must be truly dual-use. The early focus of the companies within these sectors should be strongly biased towards commercial sector success.
Early-stage, pre-seed companies apply to qualify for the
program based on these government-defined Tough Tech areas. (The qualifications for these early-stage companies must be tightly defined by the government.) If the startup is able to raise private venture capital, the government will contribute up to 30% matching non-dilutive investment.
It is critical that participating VCs have such substantial "skin in the game"; their long-term commitment to the successful growth of these companies cannot be overly diluted. It is essential to not exceed the 30% matching investment cap.
The purpose of this program is to commercially launch companies, not to achieve a definitive set of program milestones — this proposal is not intended to replace the Small Business Innovation Research (SBIR) program. In fact, it will help spur the creation of a larger, more qualified pool of SBIR candidates.
If such a program were adopted, we may expect the following outcomes:
Utilizing 30% matching investment as leverage, the federal government provides the ability for VCs to take greater risks on a wider range of Tough Tech areas that are critical to the national security and industrial bases. For example, for a VC seed round investment of $1.5 Million, the government would contribute $450K. With a pilot budget of $50 Million, the government could foster the launch of over 100 critical early-stage Tough Tech companies.
A natural market response will increase follow-on investments in participating companies, opening up different mechanisms for company growth.
Government program managers will have increased ability, early in a Tough Tech company's growth period, to provide input on its product roadmap with an eye towards the government as a potential commercial customer, without distracting the company's near term, commercial product development. Such early engagement will permit both the companies and the government to work cooperatively to determine the most opportune time to engage in SBIRs or other more traditional government-funded programs.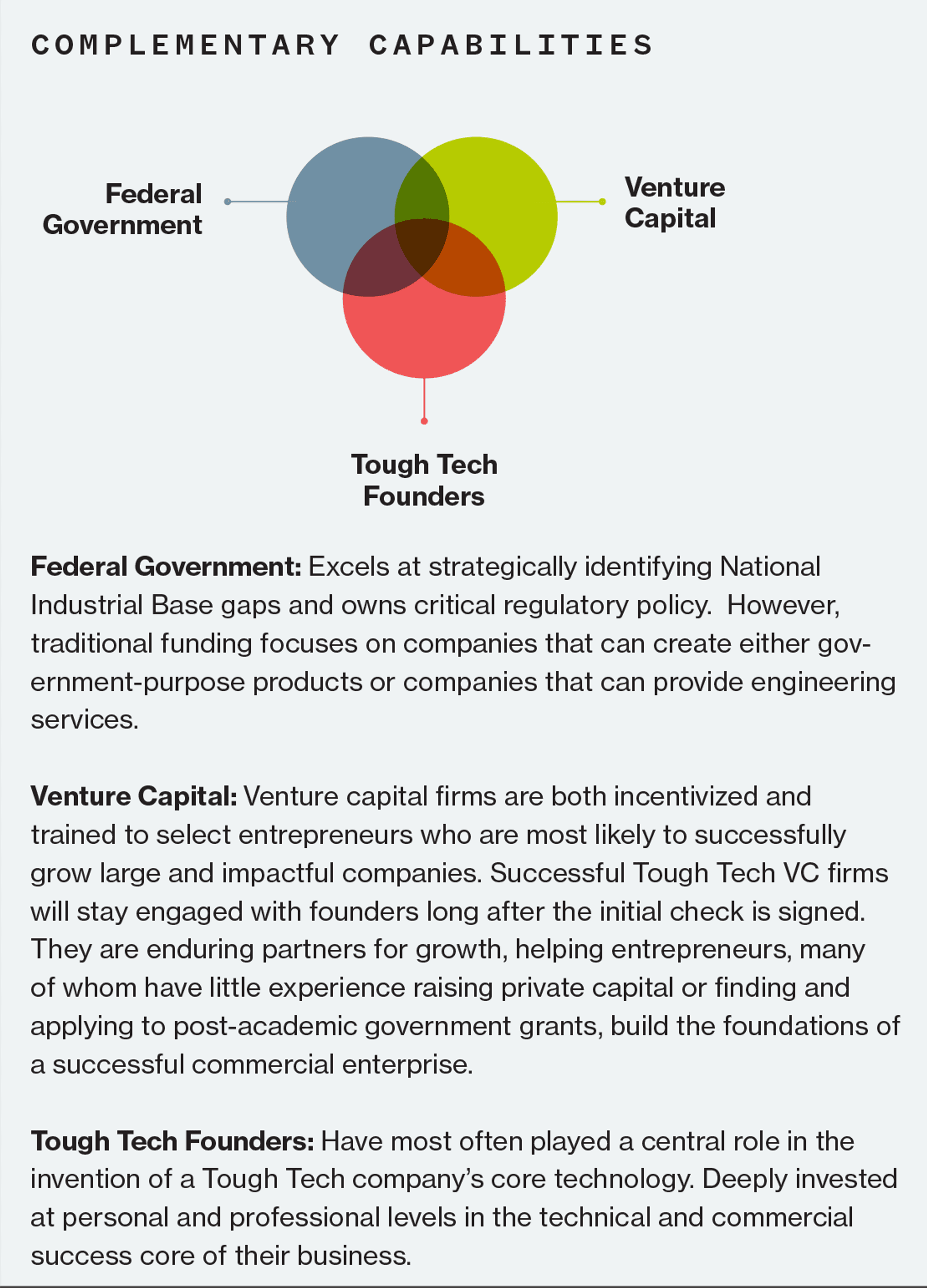 The Time Is Now
The preceding proposal is an acknowledgment that the government has the opportunity to capitalize, quite literally, on the Tough Tech breakthroughs emerging from the country's academic research institutions (the labs of which are predominantly federally funded).
Fortunately, several government agencies have already leaned forward, within the legal confines that exist, to try to alleviate some of the issues cited above. Programs such as NSF I-Corps, DARPA's EIR program, and Cyclotron Road are using small amounts of capital to promote early commercial engagement during the developmental stages of Tough Tech companies. The DoD's Trusted Capital Marketplace and Defense Innovation Unit, as well as the US Air Force Accelerator powered by Techstars, are examples of the government attempting to better collaborate with the VC community and the associated Tough Tech ecosystem therein. However, the inability for Congress to appropriate even relatively minor funding for actually novel approaches such as the National Security Innovation Capital indicates that we are still mired in a "business as usual" mindset.
The US government remains rooted in the historical "government first" approach to the Tough Tech innovation ecosystem. For the US to compete on the global stage, it must fundamentally change its perspective and approach to investing in Tough Tech. It can do this by leveraging the power of the free market and utilizing strategic and financial incentives to direct that market, through strategic partnerships, to grow our Tough Tech National Industrial Base.
The US finds itself in a fragile time. Private capital markets are strong, our academic labs continue to lead the world in technology development, but our global competitiveness in critical innovation areas continues to fall behind. The US must act with a sense of urgency. Without intervention, China will continue to be the leading investor in Tough Tech, draining the very IP that should give the US a head start while executing strategic initiatives such as "Made in China 2025" that will further erode US leadership in technology, manufacturing, and supply chain control.
While there are still significant later-stage challenges for Tough Tech companies that the above pre-seed matching investment program does not address, this program would allow the US government to make the first steps towards ensuring that our future global competitiveness and ability to address significant global challenges remain strong and enduring.